Give a touch of Scandinavian style
Sign up to Norlii box, the Scandinavian gift box as a gift to anyone in love with Scandinavia or the style.
Norlii box offers access to elegant and timeless Scandinavian design pieces that bring a touch of Scandinavian luxury, style, and sophistication to any home. With Norlii's Scandinavian gift subscription, your receiver will get  a unique box filled with 4-6 home accessories and designer pieces every two months.
The Scandinavian gift box is delivered directly to their door from Copenhagen, Denmark. US shipping is just 4-5 business days.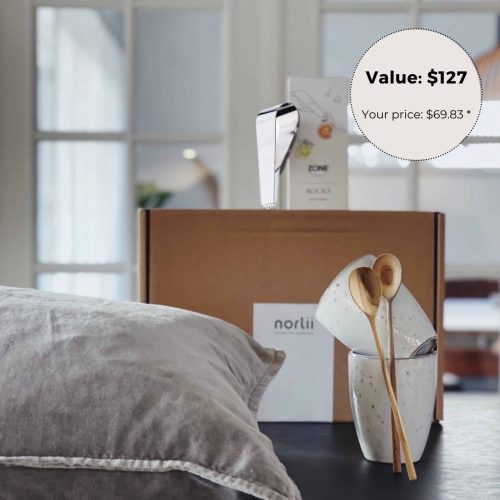 How the Scandinavian gift subscription works

Step 1
Choose plan

Decide on duration upfront, or keep it open. Pay yearly, or every other month.

You can cancel any time.



Step 2
Enter a gift note
Add you personal gift note during checkout. Add priority shipping for faster delivery.


Step 3
Lean back
We take care of the rest. Look forward to the joy of the special one receiving your gift from Scandinavia every 2 months.
Bimonthly plan: After the first Norlii gift box, your credit card is charged again on the 28th of even months (Feb, Apr, Jun, Aug, Oct, Dec).
You can cancel or pause your subscription any time. Please note cancellation requests must be received before the 15th.
Yearly plan:  You will give 6 Norlii boxes in a year. The next annual renewal date, is one year from the date of purchase. Cancellation will be effective for the next billing cycle. 

"Scandinavian home decor and accessories for lovers of hygge and hospitality"

"Norlii's Scandinavian interior design principle incorporates three main components — natural materials, clean design and hygge."
"Scandi style has found fans around the world and the Norlii Box curates a collection of homewares for them every other month."