Regarding interior design, lagom is all about creating a balanced, stylish, practical space. That might mean decluttering your home to create a more minimalist look or adding a few well-chosen pieces of furniture and decor to make your space more inviting. The important thing is that you create a space that feels right for you. After all, lagom is about creating a balanced and happy life. This sounds like an elementary and logical idea, but it can be tricky to know when you are getting it right. In this blog, I want to dig a little deeper into the meaning of lagom and how it relates to the Scandinavian and Swedish home style and way of living. 
Interested in the Swedish lifestyle? – Maybe a Swedish subscription box is something for you!
https://www.normann-copenhagen.com/en
Lagom meaning
The origin of the Scandinavian word lagom connects to the Vikings sitting around the campfire. Think about these brutal seafaring Scandinavians from way back enjoying the warmth of the fire and the mead in their cow horn cups. When they handed their mead to each other, everyone had to consider how much mead to drink to ensure there would be enough for everyone. The word' lag' means 'team,' and 'om' means around. So 'Lag' + 'om' could mean 'go around the team.'
Lagom is the idea of finding balance: that something is exactly as it should be. Not too much and not too little.
But how do you know when you've found that balance of "not too little and not too much? Being mindful will help you a great deal. If you think of lagom as a philosophy, it would sound like this: Don't overcomplicate things, and you can achieve more and feel better simultaneously.
Lagom for home
Lagom is also relevant in shaping your interior. How much stuff do you have? Do you go for a lot of decorations or almost no decor? It is a very sensible idea to find a balance in your home, to make it a place where you feel comfortable and enjoy being. The exact balance point is very individual yet so essential to find. When do you think your home is in balance? Do you feel most peaceful in a minimalistic home, or do you need to add more items to make it a bit more personal? For some, a minimalistic style will be too neutral while others find it calming and nurturing. Lagom is at the heart of The Scandi interior style. Not too little, not too much decor. The Nordic interior design mantra "form follows function" fits the lagom ideal perfectly.
The lagom color palette
One of the most important aspects of achieving a lagom-inspired interior is to focus on creating a balanced look. This starts with choosing a limited color palette and using those colors throughout the space. Using a few selected colors consistently will provide elegance and simplicity. One of the most distinguishing features of Nordic interior design is its focus on a muted color scheme. The four basic colors in the Norlii palette are grey, white, charcoal, and beige. These colors create a sense of calm and tranquility, which is perfect for mental balance after a long day. Nordic interior designers also often incorporate a splash of muted rose or soft blue into their designs. These colors help to add a bit of visual interest without being overwhelming. Nordic style is all about creating a warm and inviting space where you can truly relax. The Norlii color palette is the perfect way to achieve this look in your own home. Read on about the Norlii style here.
Clean lines and accents for balance
In addition to the neutral colors, the Nordic style will also favor clean lines. What we mean by that is that clean lines create a sense of order and calm. Nordic-style furniture and decor will typically have straight, clean lines rather than complex curves or embellishments. When you have clean lines in your design, it allows your eye to rest and it creates a feeling of balance and harmony. Clean lines create a look that is clean, modern, and uncluttered. In addition to being visually pleasing, clean lines are also easy to clean and maintain. As a result, they are also ideal for busy families who don't have a lot of time for dusting and polishing.
Then, with the foundations in place for your interior design now, bring about the balance by contrasting the clean lines and neutral color scheme with selected and timeless stylish accents. Adding elegant and timeless accents will provide contrast and interest. It's all about creating a space that is both stylish and serene. It's in the details and the balance of not too much, not too little décor we create a home we love. By following these tips, you can achieve the perfect lagom balance in your home.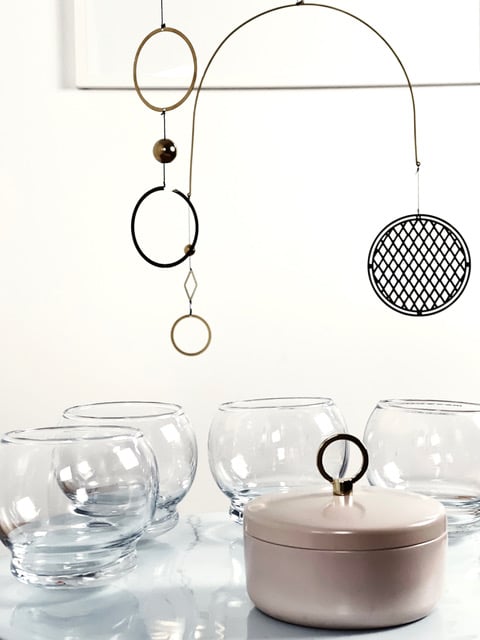 The meaning of Lagom reminds us that sometimes, less is more. For your home, It's about finding that sweet spot where you have enough, not too much, and where what you have creates a balance, which makes you feel truly at home.
Swedish subscription box - Norlii box
If you're looking for a way to add a touch of the lagom style to your home, Norlii box is the perfect solution. Norlii is a Danish, Norwegian, and Swedish subscription box. Each Norlii box contains stylish and unique home decor items that will help you create a cozy, and balanced interior. Plus, if you subscribe, with six boxes per year, you will always have something new to look forward to!  LEARN MORE about this exclusive Nordic box.