One home subscription box for every occasion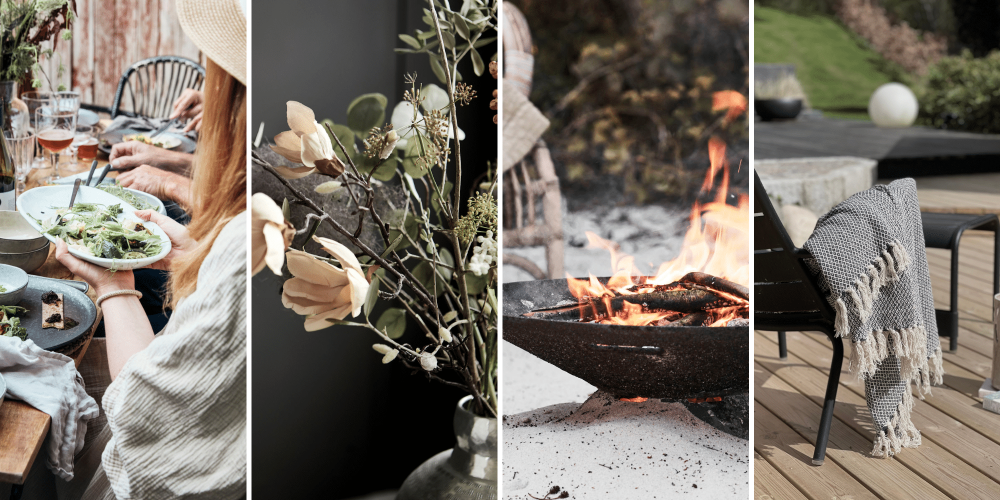 If you choose to subscribe to our luxurious, yet affordable subscription box for home, six times a year you'll receive boxes with delicate, contemporary content carefully curated according to season and a theme. From the Balance box in February, which is inspired by the concept of lagom, the Swedish term for 'just the right amount' to the Summer Hygge box in August, inspired by the beautiful, gentle Scandinavian summers. In other words, our boxes are tailor-made for just about any occasion that requires the right ambiance.
If you subscribe to our subscription box for home, you'll get seasonal, elegant, and modern decoin your home to help you achieve the feeling of being in the present moment. Our boxes contain everything from kitchenware for a tasteful midsummer gathering to candle lanterns for creating a 'hygge' atmosphere with friends on the balcony or padio.
A subscription box for home from us at Norlii gives you just the right tools to elevate your space into a welcoming, warm, and cozy area. A place you'll want to be in at all times and a place that makes you feel more you, and that family and friends will appreciate.
The Midsummer box I May-June 2022
The Swedish midsummer celebration takes place the last Friday of June. We set our members up for a festive midsummer-style luncheon. See inside this Scandinavian subscription box for home here.

The Spring box I March-April 2022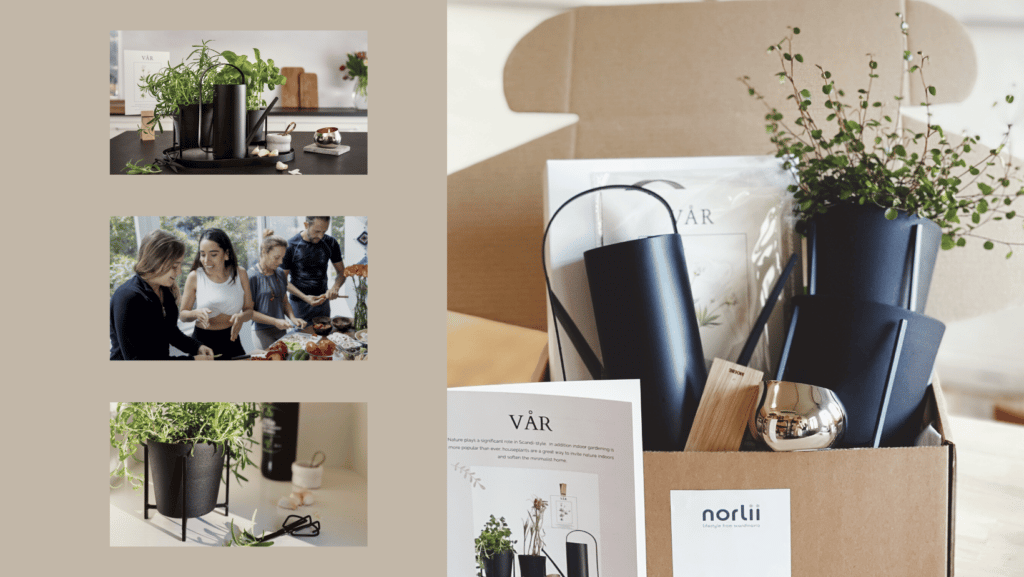 Welcome spring and decorate your kitchen with beautiful herbs,- filled with the taste and scents of of Scandinavian spring, called VÅR in Swedish. See everything in the box here.
The Balance box I Jan-Feb 2022
We themed The February 2022 edition of Norlii box The Balance Box. It is a tribute to harmony, balance and the concept of lagom. To find a balance in you home and in your everyday life. See the full contents of Scandi design items in this box and learn more about the meaning of Lagom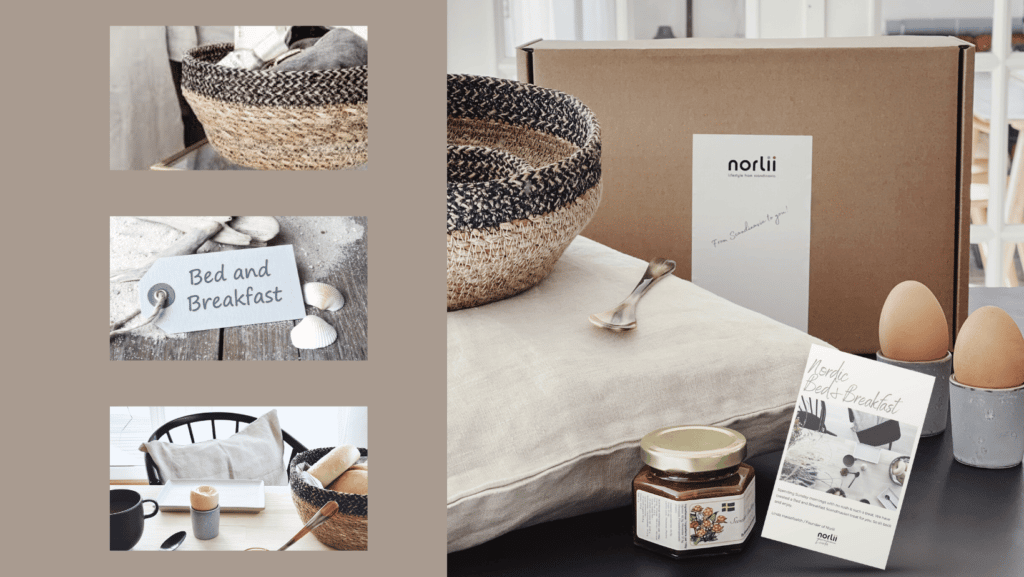 In the October 2021 edition of your Scandinavian subscription box for home box we included the soft, organic linen cushion for comfort, the basket for your rolls, egg holders for soft boiled eggs, and a special Swedish delicacy + more.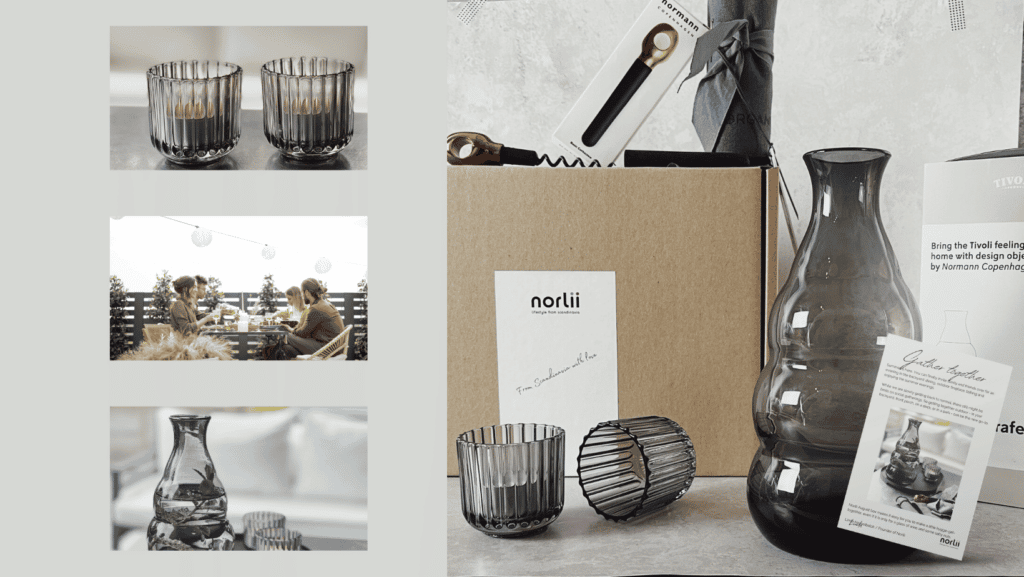 In the Norlii subscription box for home August 2021, members received an exclusive collection of Scandinavian interior design items including the mouth blown carafe by Normann CPH, to set our members up for a stylish get-togeher, hygge in summer!
When you Fika, you make time for friends and colleagues to share a cup of coffee (or tea ) and a little something to eat. The Norlii Box from April 2021 contained eight gorgeous items, just as you would find them in high-profile boutiques in Scandinavia. See the full contents of the Fika Box here.
Can I get the past Norlii boxes ?
Usually Norlii's subscription box for home sells out, however once in a while we do have some past boxes on stock.
In addition, you'll be able to find some of the items for sale individually.
Please check in the Scandinavian store 
Sign up for the bimonthly Scandinaivan Home decor subscription
Scandinavian LIFE and STYLE delivered to your door
At Norlii, we believe that every home is unique and deserves to be celebrated in its own special way. That's why with each Norlii Box, we aim to make a real difference and enhance the essence of your home.
We take great pride in helping you create unforgettable memories and meaningful experiences within the comfort of your own space. From carefully selecting top-quality decor pieces to curating thoughtful themes that truly resonate with you, we put our heart and soul into every single box.
Our goal is to bring a touch of magic to your everyday life, elevating your surroundings, and sparking joy in your heart. We know that your home is more than just a place to live – it's where you build your life, your dreams, and your story. And we're honored to be a small but significant part of that journey.
So, let us help you make your home all that it can be. Let's create something extraordinary together. Join Norlii today and discover the wonder that awaits!