Why subscribers love Norlii box,
their Scandinavian subscription box for home
"There's a simplicity and versatility to Scandinavian design that I've always been drawn to — it's cozy but not cluttered, elegant but not precious. Month after month Norlii Box delights me with Scandinavian-made items that are as practical as they are beautiful. It's the subscription I get the most use out of, one I consistently recommend and one that's helping me create that welcoming vibe I want people to feel in our home."


"I got a huge value from the August box—nearly double! A Norli subscription is $74.90 with $12.95 shipping to the US, and I got $164 worth of goodies!
What our subscribers say about Norlii box
"I love my Norlii boxes! Thank you for choosing such lovely items for every box! Every box feels like I am receiving a thoughtful gift from a dear friend. The Norlii box is filled with luxurious items that make my home feel cozy, inviting, and bring my love of scandinavian design and simplicity into my everyday life" – Emily, New York
"I have recieved my 3rd box from Norlii and cannot be happier. The Scandinavian lifestyle and traditions have always been a must for me. Each box has a theme with a described card explaining the product and traditions. All items are sourced in Denmark with care and thought. Beautiful home decor and treats add value to your life and home.
Everytime i have a question they are quick to answer and solve. Recently i ordered items from thier past boxes, can't wait to recieve them!!! – Leah, Quebec
"I love everything we've received in our Norlii boxes! The quality of items is always extremely high. The products are beautiful and interesting and things I would never be able to access without the boxes. Such a lovely addition to our home decor." A.T., Massachusetts
"I have been so happy to have found the Norlii subscription box and would love others to share in the experience of enjoying such well curated items from Scandinavia and the Nordic region".
From the very start, I must say I appreciated how organized and well managed this business has been so far in my experience. Truthfully, I have tried a few other subscription boxes and for some reason those had become stressful transaction ( from not receiving items as promised, poorly wrapped and broken items and especially poor communication on the part of the customer service ). This is absolutely not the case with Norlii …I have been well informed , always and the overseas shipping is always prompt and fairly priced. So pleased with this and then the subscription itself is top notch.
Themed and quality products I would buy again and again. I love hearing about another countries customs and general lifestyle. This box is my "happy escape" and like a breath of fresh air during this time when we are unable to travel far. Please continue to impress us, Norlii! :)" – Joan, Oregon
"The Norlii box has quickly become the box I am the most excited to receive. I like that it doesn't come every month, so I don't feel bogged down with things I may not need. Each curation feels special. There is a theme with every box, so the items are fluid and cohesive. This is a box that values quality over quantity. Every treasure I have gotten has felt so new and different from other boxes, and I smile whenever I walk by the things that have come. As far as home decor boxes go, this is by far my favorite. The owner always provides information about why she picks the items she does and it truly is one thing I look forward to unboxing each time it arrives. It has made each room in my house more fun and cheery." – Jennifer, Texas
"I am originally from Scandinavia and since I have not been able to travel back as often as I would love to, I have greatly enjoyed the experience of Norlii box that brings the Scandinavia to me.
Each box has been carefully thought experience, not just randon items which are gorgeous, but items that together will take you to another time and place. The exitement is real, the experience is #hygge. I also like the idea that part of the items in the box are for use – think chocolate covered marshmellows and bath salt and scrub – and part is forever keepers, like Little Birds."-Hanna-Maria, Georgia
"If you love Scandinavian design, or home design in general, the Norlii subscription box is for you! Every two months you receive a beautifully curated box. The products in each box are premium, high quality. When I receive my notification email that the box has been sent, I let out a little squeal of excitement and wait with one eye on the door as I can't wait for my box of goodies. Highly recommend!" -Monika G, Ontario
"Norlii box is by far my favorite box! I always look forward to it and it doesn't disappoint! The products are always beautiful and top quality! I highly recommend Norlii! -Gina A, Ohio
"I have subscribed to11 different boxes in the last three years and often suffer from box fatigue or see I get the same five brands on rotation, not so with Norlii everything I have received is high quality and functional in everyday life. I love that I can use everything in the box and nothing is sitting in my closet waiting to be gifted to others or donated. Also the customer service is excellent and transparent. Each box is delivered in a timely manner from overseas and I appreciate that especially in COVID times. In fact I am shocked at how quickly the box arrives especially compared to my other boxes. I get lots of compliments on items I have received from this box and I am extremely happy with the quality and unique curation of this box." -Mary C, Florida
"I have LOVED my Norlii subscription. The quality is exceptional, and as someone who loves Scandi and minimalist design, it's been so easy to add these items into my home. It's such a treat to get this beautiful box every other month, it's something I look forward to! -Jenn N, California
"I have received the most beautiful and unique items in my Norlii box and so look forward to receiving the surprises every other month. Linda has exquisite taste and everything I have received has a place in my home. I have even ordered more and given as gifts to friends and family!" -Yvette G, Santa Barbara, Ca
 5/5

Peek inside the boxes

"Norlii boxes never fail to impress and delight me! Unquestionably, every item is thoughtfully and intentionally chosen. I love that in addition to high quality items from Scandinavian designers I have long respected, I am regularly introduced to what become new favorites. The same care put into the boxes is also extended in the customer service and communication I have always received. I love everything about Norlii!" Regina R, Santa Barbara, Ca
"The Norlii box is something I look forward to all the time! The items are selected with care and high quality. They add to the decor of my house and are always beautiful. I have recommended this subscription to so many of my family and friends!" -Lindsay, Chapel Hill, NC
"I'm having a lot of fun subscribing to Norlii as it is different than any other subscription box that I have tried. It is becoming a favorite. I have received 2 boxes thus far and the February box has been my favorite! It's a great way to try things I normally wouldn't purchase. If something doesn't match my decor or taste, there is always a high demand for Norlii products on the swap page. The box is well packaged and communication is fantastic. The emails with blog posts are fun to read and I've enjoyed learning about other cultures." – Susan, Grand Rapids, Michigan
"Norlii is such a fun way to discover new, high-quality products for myself and my home! The style is simple, beautiful, and inspirational. Many of the items I've received in my Norlii boxes are some of my favorite things that I use everyday."-Valerie, Minocqua, Wisconsin
"I absolutely love my Norlii subscription! Such wonderful pieces in each box to add to my home. The variety in each box keeps it interesting, excited to see what comes next. Thank you!!"– Olivia, Vancouver, Washington
"I adore this box! I love opening it up and finding very unique, high quality, elegant items for my home. I love the clean, simple style of Scandinavian design and this box is perfect." – Christine (comment on MySubscribtionAddiction: The Best Home decor boxes 2022)
"I have been subscribing to Norlii for about a year and have never been disappointed in the boxes. They are thoughtfully curated with high quality items. I love being able to incorporate a little Scandinavian style and living into my life through these boxes." – Julie, Spokane, Washington
"I chose Norlii box as a gift to myself because I wanted to try unique things that I couldn't find in stores near me. I feel like it's a thoughtfully curated box that always includes at least one wow item that makes the whole box worth it to me."-Tanya, Escondido, California
"Receiving my Norlii box is such a joy. It's a gift of love to myself and my home. As you open the box, there is a feeling of care and thoughtfulness when the box was packed for shipment. A unique lifestyle Scandinavian theme comes through each delivery with the high-quality items, beautiful descriptions & history that are not an easy purchase on your own but are carefully curated by Linda. My mid-century American home has become cozier, more welcoming, and more interesting. These items complement my home and add the elusive hygge magic."– Gail, Austin, Texas
"Not only is this box beautifully curated, unique and high quality, I actually use the items on a daily basis in my home. I often find myself buying additional items from the member shop to pair with the pieces I received in the subscription. I highly recommend the Norlii box to anyone looking to add a little luxury in their life.
Can't wait for the next one!"– Alicia, Evans, Georgia
"The Norlii box embodies three of my favorite things: quality, design, and hygge. Every item immediately finds a place in my home. Thank you for putting together such an amazing box!"– Becky D, Eugene, Oregon
"Norlii is beautiful design at its best. High quality, thoughtfully chosen items that are a highlight in any home."– Mona F, Edmonds, Washington
"I love everything we've received in our Norlii boxes! The quality of items is always extremely high. The products are beautiful and interesting and things I would never be able to access without the boxes. Such a lovely addition to our home decor."– A.R, Cambridge, Massachusetts :
 5/5

Click here to get the box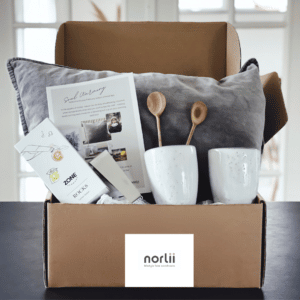 Learn more about the Scandinavian design box

UNBOXING THE latest NORLII BOX
https://www.youtube.com/watch?v=655gBbftZJEhttps://www.youtube.com/watch?v=QI2nTVSetp0https://www.youtube.com/watch?v=eMJ0-kJWMn8
"Every box feels like I am receiving a thoughtful gift from a dear friend" – Emily – New York
"I have recieved my 3rd box from Norlii and cannot be happier" – Leah – Quebec
"The quality of items is always extremely high. The products are beautiful and interesting and things I would never be able to access without the boxes.." – A.T. – Massachusetts
"I have been so happy to have found the Norlii subscription box and would love others to share in the experience of enjoying such well curated items from Scandinavia and the Nordic region" – Joan – Oregon
"This is a box that values quality over quantity. Every treasure I have gotten has felt so new and different from other boxes, and I smile whenever I walk by the things that have come" – Jennifer – Texas
"The exitement is real, the experience is #hygge. I also like the idea that part of the items in the box are for use and part is forever keepers" – Hanna-Maria – Georgia
"If you love Scandinavian design, or home design in general, the Norlii subscription box is for you! The products in each box are premium, high quality. Highly recommend!" – Monika G – Ontario
"Norlii box is by far my favorite box! I get lots of compliments on items I have received from this box and I am extremely happy with the quality and unique curation of this box" – Mary C – Florida
"I have LOVED my Norlii subscription. The quality is exceptional, and as someone who loves Scandi and minimalist design, it's been so easy to add these items into my home!" – Jenn N – California
"… everything I have received has a place in my home. I have even ordered more and given as gifts to friends and family!" – Yvette G – Santa Barbara, Ca
" I love that in addition to high quality items from Scandinavian designers I have long respected, I am regularly introduced to what become new favorites. I love everything about Norlii!" – Regina R – Santa Barbara, Ca
" I have recommended this subscription to so many of my family and friends!" – Lindsay – Chapel Hill, NC
" The style is simple, beautiful, and inspirational. Many of the items I've received in my Norlii boxes are some of my favorite things that I use everyday." – Valerie – Minocqua, Wisconsin
"I absolutely love my Norlii subscription! Such wonderful pieces in each box to add to my home. The variety in each box keeps it interesting, excited to see what comes next. Thank you!!" – Olivia – Vancouver, Washington
"I have been subscribing to Norlii for about a year and have never been disappointed in the boxes. They are thoughtfully curated with high quality items. I love being able to incorporate a little Scandinavian style and living into my life through these boxes." – Julie – Spokane, Washington
"… it's a thoughtfully curated box that always includes at least one wow item that makes the whole box worth it to me" – Tanya – Escondido, California
" My mid-century American home has become cozier, more welcoming, and more interesting. These items complement my home and add the elusive hygge magic." – Gail – Austin, Texas
" I highly recommend the Norlii box to anyone looking to add a little luxury in their life. – Can't wait for the next one!" – Alicia – Evans, Georgia
"The Norlii box embodies three of my favorite things: quality, design, and hygge. Every item immediately finds a place in my home!" – Becky D – Eugene, Orego
"Norlii is beautiful design at its best. High quality, thoughtfully chosen item that are a highlight in any home." – Mona F – Edmonds, Washington
"I love everything we've received in our Norlii boxes! The quality of items is always extremely high" – A.R – Cambridge, Massachusetts
Previous
Next

Click here to see the plans