May 17 is Norway's national day. A day that typically provides a total state of emergency throughout Norway.
Kids in Norway learn to pronounce May 17 almost before they can walk. Norway's National Day is nothing short of a huge event, packed with traditions. If you have never visited Norway on May 17, you have an exotic and wild experience in store. If you are with Norwegians elsewhere in the world you may well also see them celebrating.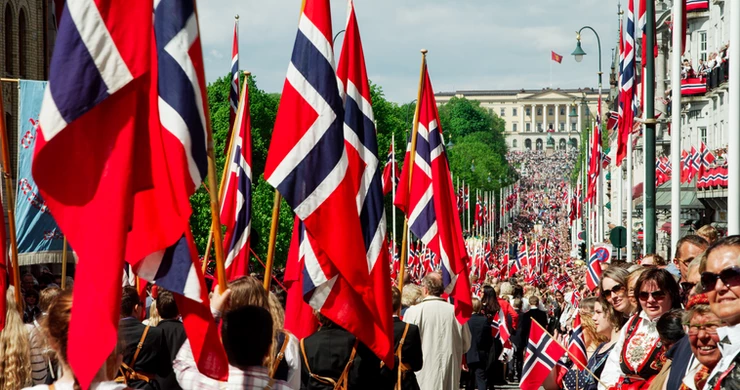 On this day virtually all inhabitants of Norway are out in the streets. The day is also an opportunity to show off one's bunad, Norway's traditional costume. Like a Scottish kilt, there are many variations, with colours and traditional designs indicating from which part of the country your family comes from.
Before taking to the streets, many gather for a 17 May breakfast – very often a pot luck with friends and neighbours – with home baked bread, scrambled eggs, smoked salmon, and (for the grown-ups) champagne.
Kids from all schools march in the streets, led by brass bands. Today in Oslo, for instance, more than 30,000 school kids where in the streets. Also in Oslo, the parade is typically greeted by the Norwegian royal family, wawing to the cheering crowds from the balcony of the Royal Palace.
Later, there are speeches and wreath-laying, followed by May 17 lunches with more champagne, cake tables, concerts, garden parties and amusement park rides in the cities.
More processions with people from city- and town associations then march through the streets, and finally many people gather in private homes. Everywhere you will see the Norwegian flag swaying. In addition, many vehicles are decorated with birch leaves and flags. The atmosphere is inclusive and joyous – visitors are welcomed warmly. It's a very special day to experience in Norway, and you if you happen to be around on that day, you should definitely join in on the celebrations
The Scandinavian history behind
After being part of the Danish autocracy for 400 years Norway got its own constitution, signed on 17 May 1814, and joined a loose union with Sweden. Despite the fact that Norway didn't become fully independent until 1905, Constitution Day remains Norway's official National Day.
Happy National Day Norway!!