The February 2022 edition of NorliiBox is a tribute to harmony, balance, and the concept of lagom.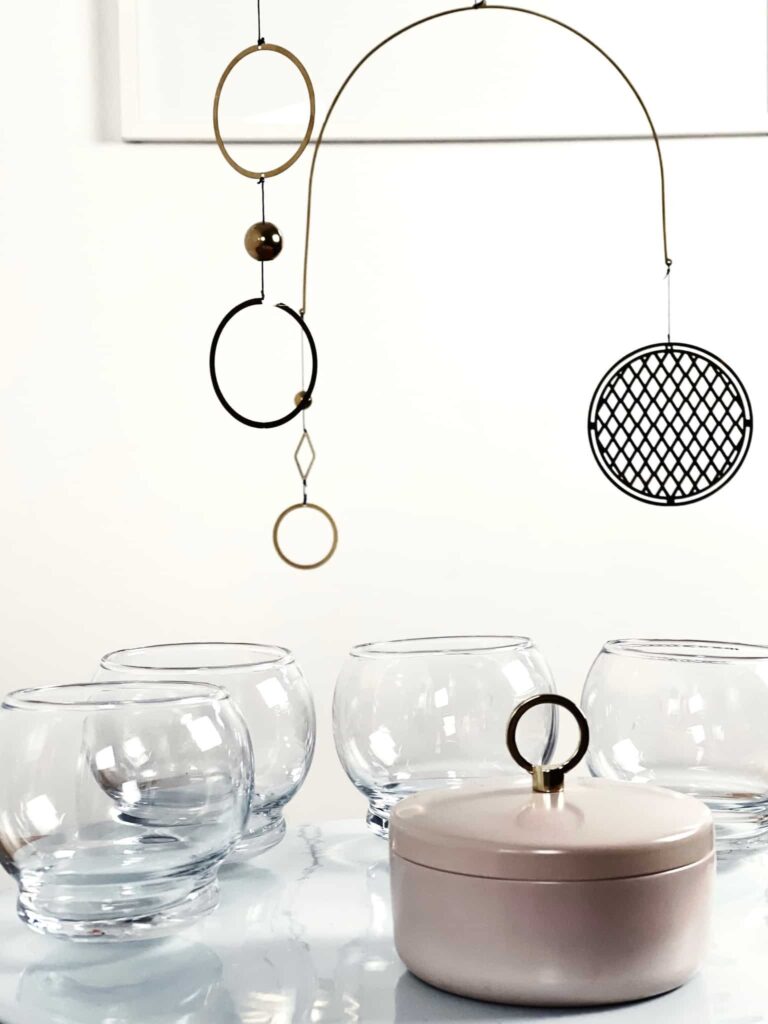 While hygge is integral to Scandinavian life, I think the beginning of a new year calls for another Scandinavian concept: lagom. Lagom is the Swedish word for "not too much and not too little"; to find a good balance in your everyday life. Lagom is a central part of the Swedish national mentality, and maybe you would like to try it too. Learn more about the concept of Lagom in this blog post.
Circa Mobile
The ingenuity of a mobile is an endless delight, a simple pleasure of watching the life of the decorative structure poised to turn freely in the air.
Circa Mobile is designed with a geometrical balance; delicate rings and geometric shapes are suspended perfectly harmoniously while the parts softly move with airflow.
The graceful rings weighing out the sturdy brass ball is a unique and constant reminder to balance out your own life.
With Circa mobile, you can create an enchanting ambiance in the décor. Maybe in your home office or living room!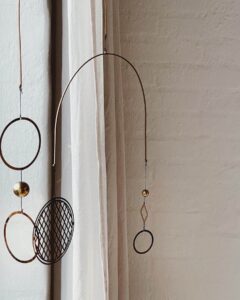 The brass mobile from Normann Copenhagen is a calm and balancing ornament for the home.
Four Rocking Glass
The Rocking Glass is a classic from Normann Cph. and has been in their assortment for many years. The sturdy and fun glass is a great conversation piece and can be used for nearly everything. It has a specially designed curved bottom, which allows the glass to tilt back and forth without the content spilling, creating a perfect balance. The rounded bottom also makes it comfortable to hold in the hand as you can both grip around the base or cradle it in your hand like a sphere – a sensual experience to keep you mindful.
The glass is robust enough to hold both cool and hot drinks. Use it for cocktails or as a decorative accessory.
Four rocking Rocking glasses from Normann Cph.
Do like they do at the Museum of Modern Art café in New York; use it for a tasty dessert.
Ring Box, sand
Ring Box is a series of small, elegant boxes to store personal belongings such as jewelry, cosmetics, stationery items, or little treats. The Ring box is made of glossy, powder-coated steel, available in three sizes in earthy tones of sand, grey, and taupe. The golden ring on the lid serves a functional purpose and is a decorative detail. I adore the carefulness of the attachment of the ring to the top hidden behind a brass cover, which makes the top look equally beautiful when lying next to the container.
You receive the sand Ring Box in February Box.
All items are curated from the Normann Copenhagen assortment. Normann Cph is a leading Scandinavian design brand with a spectacular flagship store in the center of Copenhagen.
Norlii February Box
I hope you are inspired by the theme of the Norlii February 2022 box, and I invite you to sign up for a subscription where we will explore new Scandinavian concepts and curate classy Scandinavian design. Sign up here